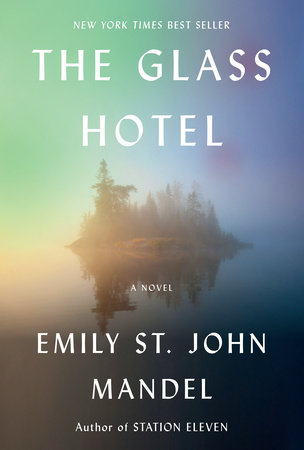 "There is exquisite lightness in waking each morning with the knowledge that the worst has already happened."
The publisher's blurb tells you virtually nothing about what this book is about. In fact, the first 50 pages leave you wondering where Mandel is going with this one. Vincent is a bartender at the Hotel Caiette, a five-star glass hotel on an island in British Columbia. Jonathan Alkaitis works in finance and owns the hotel. When he passes Vincent his card with a tip, it's the beginning of their life together. Jonathan sweeps Vincent up into a world of wealth and greed. At the heart of this book is a Ponzi scheme and the financial collapse of 2009 which makes this even more of a sobering read, now that the stock market is crashing and recession looms.
If you intend to pick up this book because you loved Station Eleven, bear in mind that the subject matters are nothing alike. But the way the books are written is actually quite similar. Mandel has a way with words, every single sentence matters and is important. This book is a real puzzle with pieces scattered all over the different chapters and they all come together at some point to make a full picture.
"Leon hadn't understood, and he'd given Alkaitis his retirement savings anyway. He didn't insist on a detailed explanation. One of our signature flaws as a species: we will risk almost anything to avoid looking stupid. The strategy had seemed to adhere to a certain logic, even if the precise mechanics–puts, calls, options, holds, conversions–swam just outside of his grasp. 'Look,' Alkaitis had said, at his warmest and most accommodating, 'I could break it all down for you, but I think you understand the gist of it, and at the end of the day the returns speak for themselves"
The characters in this book are genuinely unlikeable characters. They are opportunists, grabbing whatever life offers them at the expense of so many people while convincing themselves that they are not monsters. The way Mandel writes about the people who are affected when the ponzi scheme finally collapses is heart wrenching. People losing their homes, their retirements, pensions, working well into their 70's just to survive, losing houses, etc. It's also fascinating how people never question things that are too good to be true, there was always a feeling that something wasn't right but those feelings were brushed aside.
This is an effortless read. I adored the writing. Mandel makes sure all her characters have layers, you start to feel like you know these people, you imagine what you would do if you were in their shoes and your heart breaks when theirs does too. This book is weirdly beautiful for a finance book and even if you're not at all interested in finance (which i'm not), it still captures you from beginning to end. I gave this book 4 stars because even though I loved it the last 50 pages just dragged on for me, I didn't need everything wrapped up that much. Still a very compelling novel. I definitely recommend.
Have you read this one? Will it be making it on your TBR?
Leggy