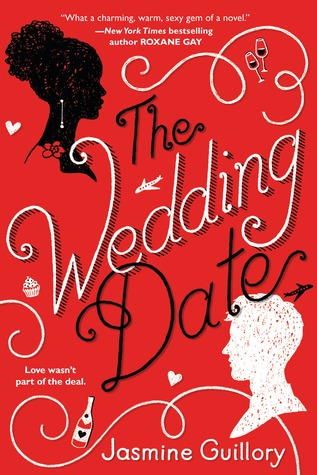 I'm so glad I got stuck in that elevator with you." she said."Me, too."
What better way to spend a Sunday morning than to read about a black woman falling in love? Well, I went to one of my favorite independent bookstores and spent a friend's coins to support 3 black writers! Anyway, one of the books I bought was The Wedding Date  by Jasmine Guillory and then I proceeded to read it one blissful Sunday morning in one seating.
This is a romance novel that isn't masquerading as anything else but what it is. Boy meets girl  (in a very ridiculous way), boy and girl proceed to have weird ass conversations that would never happen in real life, boy asks girl to be his fake girlfriend! And here, ladies and gentlemen, are where rom-coms are born. So basically, this book contains all the best  tropes that I used to love in romance novels and still ADORE in romantic comedies (I LOVEEEEE romantic comedies! Also, is it just me or do they not make romantic comedies anymore?)
So, Alexa and Drew meet in an elevator when the hotel they're in loses power so they're literally stuck there with each other. Drew laments about the wedding he has to attend that weekend and about how he would love a date and has a stroke of genius and asks Alexa to come as his fake girlfriend. Drew is a pediatric surgeon in LA while Alexa lives in San Francisco and is the Mayor's Chief of Staff. After the wedding, they continue to fly back and forth to each other's cities and start falling in love.
This book, like its cover, is extremely cute. Like, "wow, I'm really going to die alone" cute. It reads like a rom com, they can't get enough of each other and the reader already knows that the two characters are fooling each other with this undefined fun relationship stunt they're pulling and you can't wait for them to realize that they should absolutely be exclusively together.
Since the lead characters are an interracial couple (black woman/white man),  there is some mention of race and race relations in the book but nothing heavy handed or preachy. Like I mentioned earlier, it is just a romance novel that doesn't pretend to be anything else. This will not fix racism but it feels good to sit back on a Sunday and read a book about a black woman falling in love because we don't get a lot of that in main stream literary spaces.
Do you know how long I've read Julie Garwood, Nora Roberts, Debbie Macomber? The mainstream romance space is extremely white and it feels good to finally have a romance novel with a black woman at center stage. This is a fun palette cleanser/easy read for when you're tired of heavy handed literary books. It was fun and fast paced and I would definitely recommend.
I gave this book 3 stars on goodreads.
Leggy.