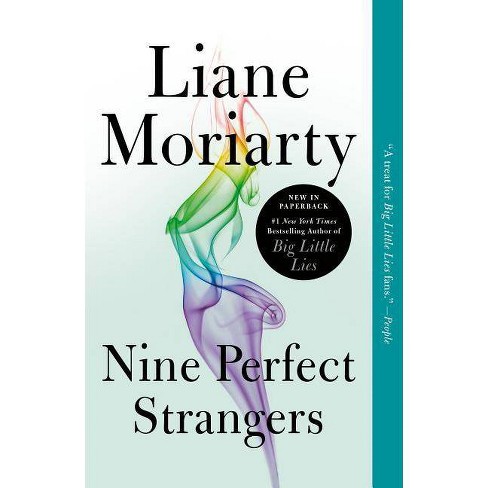 "I don't get the obsession with strangers, her first husband, Sol, once said to her, and Frances had struggled to explain that strangers were by definition interesting. It was their strangeness. The not-knowing. Once you knew everything there was to know about someone, you were generally ready to divorce them."
One day, 9 people come together at a health resort and spa named Tranquillum House. Tranquillum promises that whatever the reason for being there, they are able to transform your life in 10 days. The resort comes with unconventional methods such as no speaking, strict diets and lots of meditation, but they believe in the methods so much and let the guests know that it will require a lot of work on their end.
The guests consist of a fading romance author, a couple at their wits end, a family trying to get over a tragic loss, a stay at home obsessed with her weight, a former football player and a divorce lawyer. Also in the story is the head of Tranquillum House, Masha. We get to see her back story and learn what led her from high powered exec to slightly obsessive life coach.
"Sometimes your life changes so slowly and imperceptibly that you don't notice it at all until one day you wake up and think, 'How did I get here?' But other times, life changes in an instant with a lightning stroke of good or bad luck with glorious or tragic consequences."
I would not call myself a Lianne Moriarty fan. I liked her first book enough and the more I read of her, I found out that she had a format – group of people, some mystery that she builds up through the entire book and then just building around the whodunnit and then a weak let down but here I am, reading yet another title.
I am here because Moriarty (with the help of Nicole Kidman) has convinced America that she is a great author through the TV show adaptations. Big Little Lies was a phenomenon and my motivation for reading this is the upcoming Hulu adaptation of this (FOMO is real guys!). As much as I am not a fan, it was a case of right timing because it was just what I needed at the time.
"Relax and enjoy the journey. The stream will carry you this way and that, but will carry you forward to where you need to go."
I think Moriarty did a good job of providing a back story to all characters. 9 characters seems like a lot, well 11 when you add Masha and Yao, her protege but I did not feel overwhelmed but I was able to follow easily. Frances, the romance novelist seemed to be the central character as we heard from her voice the most and Moriarty did a good job of making her real. She was the perfect mix of human – flawed and annoying and her thoughts sounded like the average human's thoughts that they just never said out loud.
Moriarty did a good job of infusing life's different complexities and issues that we encounter in different ways and at different stages in life, through these characters. She explores topics like death, self loathing, losing one's self, family relationships.
"Don't let your heart be a casualty of your head."
The book was going swimmingly well and then somewhere along the way, it took a turn and became ridiculous. I don't know if Moriarty just had nothing else to give but where she managed to make Frances human, she missed the mark with Masha. At the point where we delve into Masha's life which she had been feeding us in bits and pieces, it just didn't make any sense. Coming back to what was transpiring in the present time, it was so off the rails that I could not believe what was happening. I am willing to accept that this could have been on purpose to be in tandem with Masha's spiraling but that might be a reach.
The end notwithstanding, if you are looking for a fluffy read where you enjoy the journey and not the destination, I actually would still recommend it. It served as a nice distraction and definitely scored high points in intrigue and keeping you interested in what was coming next,
Taynement