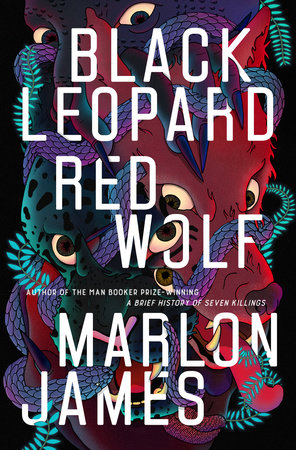 "Truth is truth and nothing you can do about it even if you hide it, or kill it, or even tell it. It was truth before you open your mouth and say, that there is a true thing." 
Tracker is highly sought after, for his skills as a hunter. He finds people with his intense sense of smell. He is called upon to find a mysterious boy who disappeared from his mother's house three years earlier. He finds himself in a group of very odd people with very unique powers all on a quest to find this boy that none of them know much about. When they start getting attacked from all sides, Tracker wonders exactly who the boy is and where the quest is actually going to lead him to.
"Life is love and I have no love left. Love has drained itself from me, and run to a river like this one." 
This book was a highly anticipated release, it was sold to the audience as the African Game of Thrones. Let me disabuse you of that notion now. This book is NOTHING like Game of Thrones. I have read the Game of Thrones series and again, it is nothing like it. First of all, this is only for hard core fantasy fans and even if you're one, you're going to suffer through this. It is less of a straightforward first person narration and more of a stream of consciousness. Tracker narrates the stories himself and it takes so long to get to the meat of the matter. He goes on so many tangents that I won't be surprised if a lot of people don't finish this one.
"He is my friend." "Nobody ever gets betrayed by their enemy." 
Also, don't do this book on audio. The narrator has a very thick accent that's a cross between what Hollywood thinks Africans sound like and a Jamaican accent. You get used to it after a while but this is not a book you can have in the background while doing other things. You really have to listen attentively to understand what is being said. If I had a drinking game for every time the writer said "fuck" or "cock", I would have been drunk before I hit 10% of the book. It has a lot of sex and if you're a prude, this is just not the book for you.
"Better to be with the ancestors than to live bonded to somebody else, who might be kind, who might be cruel, who might even make you master to many slaves of your own, but was still master over you." 
I liked some of the world building in this book. As Tracker follows the boy's scent from one ancient city to another; into dense forests and across deep rivers, the descriptions of the societies in these cities and the creatures they come across in these forests are fantastic. There were moments I got a glimpse into what this book could have been, if the writer had taken it a different route. I think the premise of this book was great but the execution, not so much.
I found this book to be a maze and you will get lost and confused a lot, I can only advise you to just plow through it if you feel compelled to get through this book. I don't think this book is for a lot of people and personally, I wouldn't even know how to sell it.
I think I'm still going to read the next installment in this series because I'm really curious about where the author intends to take this book to. I gave it 2 stars on Good Reads. If you really want to read this one, I think you should persevere through the first 100 pages until the adventure starts off before you decide to give up cos those pages might be just for you.
Have you heard of this book? Are you planning to give it a go? Let me know in the comments.
Leggy.