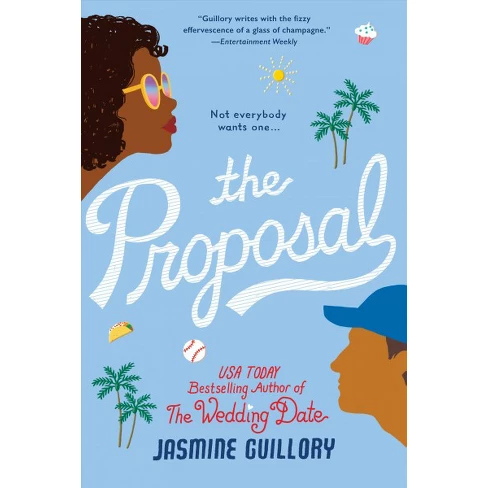 "I've spent so long being afraid of love, because the last time I was in love, the man I loved only loved one part of me, but not all of me, and I thought love meant having to sacrifice a part of yourself"
I quite enjoyed The Wedding Date earlier this year and like most romance writers who write multiple books a year, Jasmine has just dropped another one in the same series. This book came out a couple of weeks ago and it was my Book of the Month pick for November. Even though I added this book BEFORE it came out, I was no. 126 in my library. 126?! I just couldn't wait.
It was such a delight to read. The main female character, Nik, is completely blindsided when she is publicly proposed to at a baseball game by her boyfriend of just 5 months. She says no, is rescued by the main male character, Carlos, and goes viral. Guillory is very big on having a lot of diversity in her books. Nik is an African American freelance writer while Carlos is a Hispanic doctor who is cute, polite, smart and loves to cook – the absolute total package. We get to see the two of them build a friendship, with a dash of sex. Neither of them wants anything serious and Nik is just looking for a rebound so they keep it casual for most of the book. You get to see the slow burn of their relationship and this is what I love about this book. You actually feel them falling in love and there is no mention of love at first sight or instant love which is a trope I can't stand in romance novels.
"Deciding to spend your life together shouldn't be a surprise"
I know a lot of people didn't like the amount of sex in The Wedding Date and I think the editor or author listened and kept this to a minimum. There was more insinuation than actual sex.   The female friendships in this book was another thing I liked. Nik had a strong support system in her friends – Dana and Courtney- and they almost stole the show. They looked out for each other and were there every time she needed them. I also enjoyed how both the characters were already fully formed individuals who communicated very well. I hate miscommunication in romance novels. I'm reading about adults not teenagers!
I did not particularly enjoy the last 50 pages of this book. The way the author wrote the final declaration of love, especially the scene where Carlos realizes that he loves Nik, was bleh to me. It was hard to believe because it just didn't jive with the character she spent more than 250 pages building. Carlos acted questionably and that part dampened my enjoyment of the book because I expected more from him. Her editor should have had her rewrite the declaration. It took my rating down a star.
You do not have to read The Wedding Date to read this. Yes, we know Carlos is Drew from The Wedding Date's best friend and the couple shows up a couple of times in this book but they don't have prominent parts in this story so you should be fine. Overall, I really enjoyed this book and would totally recommend it if you're looking for something light and well written to combat this bleak weather we're currently having. I gave this book 3 stars on Goodreads.
Leggy
GIVEAWAY WINNERS
Now for the exciting part.
*Drumroll please*
The winners are:
Estti E. and Edirin!!!!!! 
Congratulations guys! Please visit www.theluxecandles.com and DM via twitter or instagram to let us know what scents you would like and where to send to. Thank you all for your participation. Till the next giveaway, have a happy Thanksgiving!